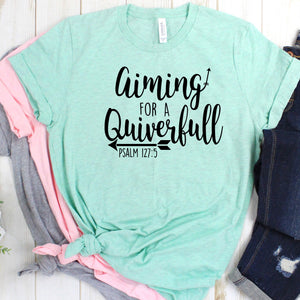 Quiverfull Unisex Tee
Regular price $19.95 Sale
"As arrows are in the hand of a mighty man; so are children of the youth. Happy is the man that hath his quiver full of them: they shall not be ashamed, but they shall speak with the enemies in the gate." Psalm 127:4-5
------
Please refer to the size guide for all sizing information. 
Shirt information: Occasionally, certain colors and sizes will be out of stock from my shirt manufacturer. If this is to happen with an item that you order, I will contact you to decide on a different item/color.
To ensure the quality and longevity of your heat-pressed design, I advise washing your shirt inside out in cold water and hanging to dry or tumble dry on low heat.
------
Want a specific color or fit that you don't see? 
Want a custom shirt with your logo added?
I can do that!
See the FAQs for more info on how to order specialty items!
------
All shirts are made and shipped by Christina, a stay-at-home mama. I do my best to make your items in a timely manner, but my main priority is my family. My current turnaround time is approximately 2 weeks to make your order (unless a pre-order time frame is specified).
I appreciate your patience!